Sunday Fun!
My son and I went
Geocaching
today. Something we enjoy very much. Long story short, it's a treasure hunt of sorts. You have a Global Positioning System (GPS) receiver and download the coordinates to hidden boxes of "stuff" from the net. Then you go find it. We've now located over 100 and gotten some really cool stuff out of them. You find the box, sign the log book and make a trade from the trinkets inside. It's great exercise, you see some stunning scenery and hey the kid gets loot! Heck,
I
get loot. My haul today included a Billie Holiday CD, a US Air force magnate, and a "signature card" from fellow cachers. I always leave the same thing. A red clover key chain, a piece of foreign currency and an old fashioned skeleton key.. thats my signature trade item. James got a gooey eyeball, a treasure planet lapel pin, and a goosebumps notebook w/ a mummy on the front.
So.. here's some pix.
Lake

is there more?

Our 100th find!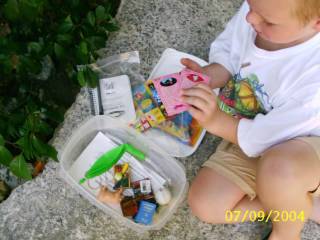 Lovely wooded area we tromped through

wooded

Where's my freaking head!

The Loot

Coming off the trail

James on the merry-go-round... wow is the date on my camera wrong or what lol